As the pandemic meant that more people were working from home, it became the norm for them to experiment with bolder hair looks as they weren't bound by office dress codes or social norms. After all, there won't be a bad hair day you can't fix if you're only going to be in front of the camera for the occasional Zoom meetings.
Coupled with lockdowns and the temporary cessation of non-essential services like hairdressing, this unique situation gave rise to the popularity of at-home hair products, including hair care, hair dyes and devices that help them achieve salon-like results in the comfort of their own homes. Fast forward to 2022, the optimism of a post-pandemic world coupled with the willingness to experiment carries forward in the way people express themselves, especially when it comes to hair color.
Sensient's Color of the Year Radiant Pink—a color inspired by the warmness and healing qualities of human touch encapsulates this optimism.
Along with Radiant Pink are a spectrum of warm tones including amber, red, chestnuts and browns that complement it—further enhancing the soothing and calming qualities of these colors.
Sunset Reed
A palette that ranges from reds to browns, Sunset Reed sits comfortably between bold and natural, exuding warmth that suits a wide variety of skin tones. This trend can span from light shades with blonde undertones, to darker chocolates with red undertones.
Orange and Russet Tones
Reminiscent of warm sunsets and terracotta, these tones explores the harmony between red and yellow to create a rich and warm palette for the mane. Adjusting the tonal values and intensity, orange and russet tones can highlight fairness of skin, or to help give it the appearance of a warm summer glow.
Deep Reds and Purples
This dark palette of reds and purples is the perfect one for those with naturally dark hair, allowing a full spectrum to shine through in different lights without the need for pre-lightening. When applied in varying lightness and intensity, reds and purples lend a multi-dimensional look to the hair, especially on curls. As it veers towards the darker tones, it's also more palatable for those who are just venturing out of their natural hair color, but still want something wearable.
Multi-Tonal Blues
A color that's meant to stand out from the crowd, blue is a color that is both versatile and flattering. Rich Lazuli Blue – a key color for this season – and deep Atlantic Blue can be mixed with other colors to create dual-tone looks on both lighter and darker hair.
Achieving The Ideal Hair Color
At Sensient, we develop innovative ingredients and technologies that help consumers achieve their hair goals while simultaneously protecting hair strands.
Developed to be highly versatile, these water soluble dyes can be adapted to semi-permanent, demi-permanent and permanent hair color. Arianor® dyes are compatible with all types of hair color and offer a full spectrum of 17 shades that can not only be developed into hair dyes but in hair care products as color refreshing shampoos and conditioners.
When mixed with Covafix 123, an optimized solvent blend, and Natpure® Feel-M Eco, an ingredient that will increase the conditioning effect of the formula, Arianor® will be able to create the hair dye with a wide variety of tones ranging from pastel to intense colors.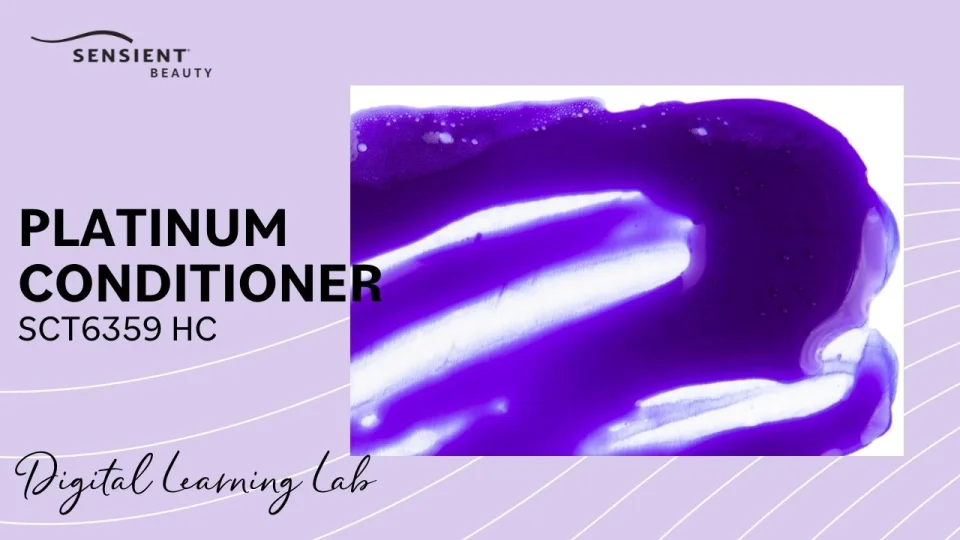 This platinum conditioner provides care and anti-yellowish effect on bleached blonde hair and natural gray hair. It contains Unicert K7025-J which is an anionic dye has the highest water solubility (up to 4.40-5.00g/l) as well as the highest purity in accordance to European regulation requirements. This particular dye can be used for hair care, semi-permanent hair color and toiletries, providing an anti-yellowing effect on hair, ideal for color-correcting hair products.
Our range of Natpure® Col hair dyes are 100 percent botanical hair color, vegan, Halal and Kosher compliant, non-GMO and made without pesticides or animal testing, ideal for the environmentally-conscious Gen Z consumers of today. The pigments are derived from Henna, Indigofera Tinctoria Leaf and Cassia Auticulara Leaf to provide natural-looking shades that lasts up to 21 shampoos.
The dyes can be developed into a Botanical Hair Color Brick that allows for easy application of hair color while nourishing hair. Natpure® Col Dark Brown 230, blended with cocoa butter and natural fragrances like rosemary, ylang ylang and geranium form a gentle, yet effective hair coloring product.
These high-quality ingredients and many others in our portfolio are driving innovation in hair coloring and hair care today. Our experts work with brands to mix, match, and combine ingredients into powerful, natural formulations that consumers love. Contact us to learn more.